April 29, 2017 show
Films of Little Orphant Annie, Milan basketball and more
Thanks to new restoration projects, there's going to be an Act II for some diverse films with Indiana connections.
One of them involves "Little Orphant Annie," the classic poem by James Whitcomb Riley, which inspired a 1918 silent movie. The movie, also called "Little Orphant Annie" and featuring silent screen star Colleen Moore, is an expansion of the poem in which Annie warns spellbound children about predatory "goblins."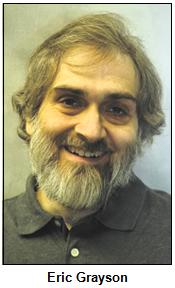 Another film relates to the state basketball tournament win in 1954 by underdog Milan High School, which was fictionalized in the hit movie Hoosiers (1986). Film of the entire, actual championship game at Hinkle Fieldhouse - during which Milan defeated Muncie Central High School - had been rapidly deteriorating and was in danger of crumbling.
Indianapolis-based film historian and preservationist Eric Grayson has been restoring both of those films, along with other rare movies with Indiana connections. Eric will be Nelson's studio guest to share insights about the films; later the same day, the restored Little Orphant Annie movie will have a screening in Greenfield, the hometown of the "Hoosier Poet."
The screening will take place at the H.J. Ricks Centre for the Arts, a recently restored ArtDeco/Art Moderne style movie house built in the 1940s, where Eric will host a showing of the silent movie beginning at 4 p.m. on April 29.
Our show also comes as Eric is finishing work on restoration of film of the iconic Milan High triumph.
"The Milan footage was a professionally shot, 16mm movie of the whole [game], done by IU," Eric reports. "It didn't survive in good shape."
While we have Eric with us, he also will discuss how he found Hoosier Schoolmaster (1924), a silent movie based on a popular novel written in 1871 by Edward Eggleston of Vevay, Ind. (In 1935, a subsequent movie version of Hoosier Schoolmaster was released.)
He also will share insights about a rare 1945 film version of A Girl of the Limberlost, based on an internationally bestselling novel by Hoosier naturalist Gene Stratton-Porter. (Eric previously restored an earlier film version of Limberlost, a movie made in 1934.) Stratton-Porter eventually founded a movie production company; it produced Little Mickey Grogan (1927), a movie that Eric also is restoring.
He has been a studio guest on previous Hoosier History Live shows about vintage movie theaters and rare films with Indiana connections. Eric has a vast collection of rare 16mm and 35mm films that includes, in some cases, the only print of - or the original - film.
In the case of the silent version of Little Orphant Annie, Eric has restored prints from the Library of Congress. The film includes a cameo appearance by James Whitcomb Riley, who died in 1916, two years before the movie was released. The footage of Riley was filmed earlier in 1916 for a movie celebrating Indiana's Centennial that year.
In 1954, the David-versus-Goliath victory by tiny Milan High School (which beat Muncie Central with a final score of 75-74) occurred thanks to a buzzer-beating shot by Milan senior Bobby Plump. He discussed the iconic game on a Hoosier History Live show in March 2014 in connection with the 60th anniversary of the state championship by Milan, which is in southeastern Indiana.
In northeastern Indiana, Gene Stratton-Porter wrote A Girl of the Limberlost in 1909. She was the author of 13 best-selling books, several of which inspired movies. Her two homes - the first, called Limberlost, in Geneva, and the second, Wildflower Woods, in Rome City - are state historic sites.
History Mystery
Milan High School basketball star Bobby Plump and his teammates in 1954 had a coach who was different in several ways from the character portrayed by Gene Hackman in Hoosiers, the 1986 movie. Unlike the Hackman character, who was middle-aged and volatile, the Milan coach was young - he was in his early 20s, so not that much older than Bobby Plump and his teammates - and even-tempered.
The coach left Milan High School after the team won the 1954 state tournament and coached at several high schools across the state. He died in 1991 at age 71.
Bobby Plump discussed his former coach as a guest on Hoosier History Live in March 2014 on the 60th anniversary of Milan's historic victory in the state tournament.
Question: Name the coach.
The call-in number is (317) 788-3314. Please do not call in to the show until you hear Nelson pose the question on the air, and please do not try to win the prize if you have won any other prize on WICR during the last two months. You must be willing to give your name and address to our engineer and be willing to be placed on the air, and you must answer the question on the air.
The prize is a pair of tickets to the Indiana Wine Fair at Story Inn in Brown County on Saturday afternoon, May 13, courtesy of Story Inn, and a pair of passes to the Indiana History Center in downtown Indianapolis, courtesy of the Indiana Historical Society.
Roadtrip: Cataract Falls
Guest Roadtripper Michael Armbruster (who edits the Hoosier History Live newsletter when he's not exploring the wilds of Indiana) suggests a trip to Cataract Falls, a true natural wonder of the Hoosier state. While not quite as dramatic as its more famous cousin up Niagara way, Cataract Falls is the largest waterfall in the state of Indiana and makes an impressive display of the pull of gravity on water.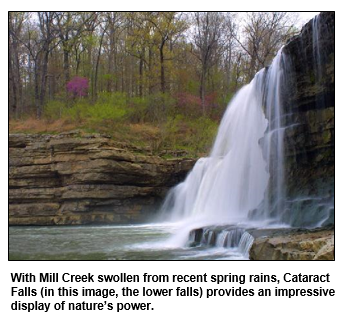 Located in Lieber State Recreation Area (Owen County), about an hour west of Indianapolis and just a few miles south of Interstate 70, Cataract Falls makes a delightful day trip. Two sets of falls about half a mile apart make up Cataract Falls. Both are accessible by road and nearby parking lot, but Mick suggests that you walk from one to the other. Park at the upper falls and take the topographically challenging trail that follows Mill Creek down to the lower falls, and then take the paved road on the way back up. You might get lucky and see a pileated woodpecker flitting about the old-growth sycamore trees, as Mick did on a recent trip.
For the historically minded, a covered bridge (built in 1876 and restored by the DNR in 1995) crosses Mill Creek just above the upper falls and provides a glimpse into a bygone era of wooden road structures. Now closed to motor traffic, the bridge serves as a sheltered picnic area.
If you forget your lunch and need to purchase supplies, check out the Cataract General Store, an old-timey emporium dating to 1860, located just a mile or two down Cataract Road. For those wishing to spend a few days in the area, Cagles Mills Lake, also within the Lieber State Recreation Area, provides numerous outdoor activities and a nature center, as well as camping sites.
"Not many Indiana residents seem to have heard of Cataract Falls," Mick notes, "but it's a real gem!"
May 6, 2017 show
Insect heritage: the As to Zzzzzs
Since long before our guest founded the popular annual Bug Bowl competition at Purdue University, insects have been intertwined with the heritage of Indiana.
The honeybee, which was not native to the Hoosier state, was known as "the white man's fly" by Native American tribes here.
Malaria epidemics rampant across the Indiana frontier involved insects prevalent during the early 1800s.
And a state entomologist advised James Whitcomb Riley about the use of insects in poems written by the nationally famous "Hoosier Poet."
Those are among the swarm of topics related to our insect heritage that we will explore when Tom Turpin, a Purdue professor of entomology, returns to Hoosier History Live. A witty public speaker and the founder of the Bug Bowl competition - which Dr. Turpin began as a creative activity for his students, only to see it draw international attention - he was a guest for a show on June 20, 2015 about "Insects and Indiana."
But the world of insects is crawling with topics we didn't have time to explore in the original show.
So Dr. Turpin is coming back to share more insights about Indiana's mosquitos, crickets, beetles, wasps, spiders, cockroaches and bees, including which ones are native to the state and which are not.
Non-natives include:
The emerald ash borer, an invasive beetle that has been killing ash trees across Indiana and elsewhere.
Honeybees, which often swarmed ahead of white pioneers as they moved west. This signaled the approach of the pioneers to Native Americans, Dr. Turpin says. During our show, he also will discuss the popularity of beekeeping in urban and suburban neighborhoods.
Guests on other shows have mentioned that 17-year cicadas were in their cycle of "emergence" in 1816, the year Indiana became a state. So cicadas also will be fodder for discussion with Dr. Turpin, who has been a guest on such major TV and radio programs as ABC-TV's "Good Morning America" and NPR's "Prairie Home Companion."
Much of the media attention has been generated by the Bug Bowl, which Dr. Turpin founded in 1990. It features cockroach racing contests, exhibits of food cooked with insects and even a cricket-spitting competition. The Bug Bowl regularly draws more than 20,000 visitors.
Hoosier History Live welcomes English Ivy's into its family of underwriters
One of the fun things about being a guest on Hoosier History Live is that sometimes we keep talking history long after the show. The conversation continues at an Indianapolis restaurant that provides us with a complimentary lunch as part of their support for the show.
Hoosier History Live welcomes the "revamped" English Ivy's to our family of sponsors. Located at 944 N. Alabama Street in the historic St. Joseph neighborhood in downtown Indy, the pub has a new owner/manager, Danny Scotten, who is himself a history enthusiast. Ivy's recently put in windows to "open itself up" to the neighborhood. The 1958 all-brick building was, years ago, home to a bar known as the "944" with a clientele quite different from today's urbanites. Now it's more like a friendly neighborhood pub.
A note of support
'We hope to see it broadcast far and wide'
A particularly nice letter of support came in some time ago from authors James Alexander Thom and Dark Rain Thom. We like to re-read it from time to time!
To Whom it May Concern:

Last Spring, my wife and I were interviewed by Nelson Price on his Hoosier History radio program, as authors of frontier and Native American history books. Mr. Price's program was so well prepared and conducted that we feel it should be made available to students and general audiences as widely as possible. His program is well-researched, all questions pertinent to the chosen theme, and moves along briskly. Listeners called in with questions and comments that were intelligent and relevant, a sign of an avid audience.

As historical writers, we try to overcome the public's indifference to history, to bring alive in any way we can the important lessons of the past, and are enthusiastic about programs and writings that make those lessons interesting. The Hoosier History Live program does that so well that we hope to see it broadcast far and wide over this historically significant State of Indiana. It is an excellent program, worthy of extensive distribution and strong support.

James Alexander Thom & Dark Rain Thom, authors
Bloomington, Indiana
July 14, 2011
Help keep Hoosier history alive!
Thanks for your support
No, we're not going to rattle a tin cup, but if you'd like to be among those individuals and sponsors who value the fresh perspective that Hoosier History Live offers, please consider clicking the big yellow "Donate" button above, or visit our website's "Support the show" page and make a contribution.
Or, you may make out a check to "Hoosier History Live" and mail it to:
Hoosier History Live
P.O. Box 44393
Indianapolis IN 46244-0393
Your support goes toward our ongoing expenses, including website hosting, email marketing software, audio editing, audio archiving and a long list of other items that a media team of any size must have to keep operations going.
We are a small creative/technical group that keeps our history-journalism reporter, Nelson Price, working - creating an Indiana-history archive that grows each week in heft and value. Nelson gets the interviews, and he gets the facts right.
We have produced more than 400 episodes - and counting - of original Indiana history journalism.
We are swimming against the tide, in a media landscape where ethical and objective reporting, without bias, has for the most part fallen by the wayside.
For questions about becoming an underwriting sponsor (the underwriter level includes logos on our website and newsletter and spoken credits in the live show), contact our producer, Molly Head, at molly@hoosierhistorylive.org, or (317) 927-9101, or Garry Chilluffo, our media+development director, at gchill@hoosierhistorylive.org.
Thanks again to recent individual contributors: Suzann Owen, Roz Wolen, Carol Bacon, Michael J. Quinn, Sr., Jinsie Bingham, Jennifer Smith, Theresa and David Berghoff, Stacia Gorge, Sally Cook, Margaret Smith, Jo Ellen Meyers Sharp, John and Diana Iozzo, Margaret Smith, Tom and Linda Castaldi (Fort Wayne), Peggy Hollingsworth (Connersville), Jane "Janie" Hodge, Lorraine and Richard Vavul, Kathleen Angelone, Richard Vonnegut, Jim and Marjorie Kienle, Georgia Cravey and Jim Lingenfelter, Dennis Arbuckle, Rita Kohn, Don Willsey and Judy O'Bannon, John and Lena Snethen, Juliet Emanuel (New York City), Sharon Butsch Freeland, Daniel Craig, Chuck and Cheryl Hazelrigg, Stacia Gorge, and Jill Chambers.
Please consider taking a moment to support our unique-in-the-world content. No, we are not a non-profit organization - perhaps soon; that is an ongoing discussion - so we are not in a position to offer a tax deduction. Rather, we are simply a tiny corps of Indiana creators, private citizens who each week create an original radio show, newsletter and website about our great state's history.
Your support is our only support!
Volunteers needed
Calendar itemkeeper, listening-group host opportunities
Would you be interested in placing the Hoosier History Live show topic and dates and times and ways to listen on the Bicentennial calendar and various other free community calendars across the state? This is rather detailed online weekly public relations work, but it would help get the word out about our show. If interested, please email molly@hoosierhistorylive.org, and please include your phone number.
Would you be interesting in hosting or facilitating a listening group at Central Library in Indianapolis each week? You would be responsible for being there each week during the live show and making sure a listening device is available. And generally facilitating the discussion. If interested, please email molly@hoosierhistorylive.org, and please include your phone number.
Shows, we got shows
We have more than 400 Hoosier History Live radio shows completed, as a matter of fact. And we need to get show audio onto the website, which we are doing by and by, but we sure could use some sponsorship assistance as we edit and publish audio for each archived show. Take a look at the list below and check out all the opportunities for sponsoring a slice of original Hoosier History Live content on the Web.
No one else is doing anything quite like what we're doing. We are the nation's only live call-in radio program about history. We offer a permanent and growing archive of quality content, available for sponsorship opportunities.
If you are interested in becoming a sponsor of Hoosier History Live, click here or call Molly Head at (317) 927-9101 for more info.
What people are saying about Hoosier History Live
"Hoosier History Live does more to promote Indiana history than does any single source."
Andrea Neal, Indianapolis author and educator
"Hoosier History Live is a fun and interesting way to learn about the heart and soul of Indiana. No boring classes or books here! The production team does an outstanding job."
Judy O'Bannon, civic leader and public broadcasting producer
"The folks at Hoosier History Live are able to find great stories and the people to tell them - people and stories that you seldom hear on the national air."
Dr. James H. Madison, author and Indiana University history professor
"As museums and educational institutions scramble to make their offerings more interactive, more entertaining and more 'relevant' to today's digitally obsessed consumers, Hoosier History Live seems to have mastered that formula."
Glynis Worley, rural Bartholomew County listener
"Hoosier History Live is a perfect place to consider and reconsider history ... not just what happened in the past, but what it may mean in the present. Nelson Price is the perfect host: enthusiastic, curious and knowledgeable. Tune in to Hoosier History Live and be prepared to be surprised."
James Still, playwright in residence, Indiana Repertory Theatre
"Hoosier History Live is a fantastic opportunity for people to not only learn about history, but also become a part of the conversation. Much like our mission, the telling of Indiana's stories, Nelson and his guests wonderfully connect people to the past!"
John Herbst
President and CEO, Indiana Historical Society
"The links on the Friday Hoosier History Live enewsletter are a great way to learn more about history, and from a variety of sources."
Jill Ditmire
Omni Media Specialist
"Distilling life experience into stories is an art. Telling stories of life experience for Hoosiers past and present will shape the lives of young people and enrich the lives of all in our state. Mr. Nelson Price brings alive the life experience of notable Hoosiers in Hoosier History Live."
David T. Wong, Ph.D., President
DT Wong Consulting, LLC
Former Lilly research scientist who developed Prozac
"Nelson Price, more than anyone I know, infuses joy into the pursuit of history. And that joy rings out loud and clear on the radio show, Hoosier History Live."
Marsh Davis
President, Indiana Landmarks
"No, I haven't heard of another call-in talk radio show about history. Our airwaves are now full of the worst vitriol! Give me the phone number for the show. I want to call in!"
Ken Burns, speaking at a preview of his film "The War" at Indianapolis Hebrew Congregation, April 18, 2007