July 26 show - encore presentation
Indy Mayor Ballard on Marines history and 'old' Cathedral High
An Indianapolis native, he grew up on the Eastside, attended the "old" Cathedral High School (when it was located downtown and had all male students) and eventually enlisted in the U.S. Marine Corps.
So there's much local history turf to cover with Mayor Greg Ballard of Indianapolis as he joins Nelson in-studio during an encore presentation of a show exploring history topics that have been intertwined with his life. (The original air date of this show was June 15, 2013.)
You won't want to miss Mayor Ballard's recollections of incidents that unfolded during the years that he hitchhiked from his Eastside neighborhood to Cathedral. Like generations of teenage boys before him who attended the downtown Cathedral, Greg Ballard, a member of the Class of '72, relied primarily on hitchhiking to get to and from school for four years.
During the show, Mayor Ballard, now 59, also shares details about the unlikely way his decision to enlist in the Marines occurred. After a 23-year military career, Mayor Ballard, a Republican, retired as a lieutenant colonel from the Marines in 2001 and returned to his hometown to enter private business.
He also discusses other links between the Hoosier state and Marines, in addition to sharing his own experiences. His decision to enlist eventually led to assignments in places such as Okinawa, Japan; Saudi Arabia during the first Persian Gulf War; and Stuttgart, Germany, as well as in Michigan and North Carolina.
Before that, the future mayor attended Cathedral on a scholarship. His years there were preceded and followed by major changes. Since its founding in 1918, Cathedral had been located at 14th and Meridian streets.
In 1976, four years after he graduated, Cathedral merged with Ladywood, an all-girls Catholic academy located on the northeastside, a decision that was presented as a financial necessity for both schools. (The merged, co-ed school, which took the Cathedral name, is on the former Ladywood site on East 56th Street.) Previously, while Greg Ballard was attending Cathedral, Ladywood had merged in 1971 with Cathedral's "sister" school downtown, St. Agnes Academy.
Greg Ballard grew up in a family of five children. After graduating from Cathedral, he attended Indiana University, where a pivotal event occurred related to his decision to join the Marines.
During the first Persian Gulf War, he was promoted to major. He met his wife, Winnie Ballard, a native of the Philippines, while on assignment in California.
He had never run for political office before defeating incumbent Bart Peterson in the 2007 mayoral election in what has been called one of the biggest upsets in Indy's political history.
Hoosiers who have achieved distinction in the Marines - and are discussed during the show - include David Shoup (1904-1983), a Tippecanoe County native who grew up on farms there and near Covington. A Medal of Honor winner during World War II, Shoup led the U.S. invasion during the Battle of Tarawa in the Pacific Theater of the war. He rose to become the 22nd commandant of the U.S. Marines Corps, serving in the top post during the Eisenhower and Kennedy administrations. Shoup, who later became a vocal critic of the Vietnam War, is buried in Arlington National Cemetery.
Other Hoosiers who have served in the Marines - and who are discussed by Mayor Ballard during the show - include Carol Mutter, a retired lieutenant general who lives in Brownsburg. She was born in Colorado and became the first woman to receive the rank of lieutenant general in the Marine Corps.
Encore Roadtrip: Monument Circle for kids
Guest Roadtripper Kelly Young of Baise Communications reported that she took her kids for a recent tour of Monument Circle in downtown Indianapolis. Her children were fascinated by Christ Church Cathedral, with its early gothic revival architecture, Tiffany stained-glass windows and pipe organ.
Kelly's daughter had studied President Lincoln in school and was fascinated to learn that the church bells had rung out as Lincoln's body lay in state at the nearby Capitol.
Kelly and crew then crossed the street, headed up the 330 steps (yes, walked!) to the observation level of the Soldiers and Sailors Monument for a great view of the city, and they visited the Civil War Museum in the lower level.
They topped off their Roadtrip with ice cream from the Chocolate Cafe, and then a quick trip back in time for Kelly at Rocket Fizz, a candy shop with nearly every type of novelty candy. Both of these sweet spots are right on the Circle.
Article details 'overlooked yet influential Hoosiers'
(July 6, 2014) - Hoosier History Live's host, Nelson Price, has penned an article for indystar.com that focuses on notable Hoosiers, present and past, who deserve more attention.
Says Nelson: "I picked five diverse Hoosiers, three of them historic figures and two contemporary. One of the latter is archaeologist/anthropologist Christopher Schmidt (of U Indy's Indiana Prehistory Lab), whom I regard as a rock star. He has been a radio show guest twice so far."
Others in the article include:
Chief Menominee, leader of the Potawatomi in northern Indiana during the 1830s.
Anita DeFrantz, Olympics organizer who hails from Indy.
Tom Harmon, football star, World War II hero and pioneer TV sportscaster.
Levi and Catharine Coffin, whose home in Newport (Fountain City now) became known as the "Grand Central Station" of the Underground Railroad during the 1840s.
So ... click over to the story on the indystar.com website and take a look at Nelson's most recent published piece of history journalism!
Aug. 2 show
Russian immigration
Carmel resident Natalia Rekhter immigrated from Russia in 1991. So she is among those who have come from her homeland to Indiana since the mid-1980s, which is when the bulk of immigration from Russia here began - much later than that of many of the other ethnic heritage groups that Hoosier History Live! has explored in our rotating series. The exceptions involve significant Russian Jewish immigration in the late 1800s and early 1900s. Here is a link to Natalia's blog.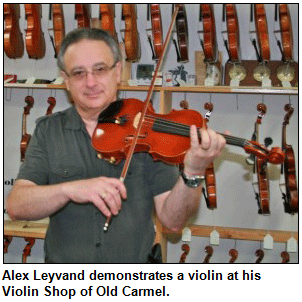 Natalia, who immigrated with her husband and young son, will be among Nelson's studio guests. She is director of development at the Indianapolis Russian School, which was founded 21 years ago by a group of Russian immigrants who wanted their children to learn about their heritage. Beyond classes in the Russian language, the school offers instruction in everything from math to chess.
In addition to a growing Russian community in the Indianapolisarea, New Castle also has become the home of many immigrants since the mid-1980s, Natalia reports. She is originally from Ivanovo, a Russian province about 200 miles north of Moscow.
In an article in The Indianapolis Star last February, Natalia, 47, indicated that economic reasons motivated her family's immigration. In Russia, four generations of her family (six people) lived in a two-bedroom apartment.
Nelson and Natalia will be joined by Indianapolis resident Alex Leyvand, 65, owner of the Violin Shop of Old Carmel.
Alex, who also makes musical instruments and is a violinist, grew up in Moscow. He immigrated in 1989 - a few months before the breakup of the Soviet Union - with his wife, daughter and parents. In his homeland, Alex had played the violin in a prestigious orchestra based in Moscow. He says his family primarily immigrated because of "political differences" in his homeland.
According to Peopling Indiana: The Ethnic Experience (Indiana Historical Society Press, 1996), large waves of Jewish immigration to the United States from Russia - as well as from Poland, Lithuania, Romania and other Eastern European countries - occurred from 1880 to 1924.
In Indiana, the major areas of settlement tended to be in the northwest part of the state, as well as in Indianapolis and Vincennes. Decades later - during the Soviet Union era - Jewish organizations across Indiana helped with the resettlement of other waves of immigrants.
In our rotating series about ethnic immigration to the Hoosier state, Hoosier History Live! has explored German, Irish, Scottish, Brazilian, Columbian and Venezuelan, Greek and Cuban immigration, among an array of others. In 2008, our first year on the air, we explored our state's Jewish heritage. Last summer, we delved into aspects of Swedish and Norwegian heritage.
(Note: We are linking to past show newsletters for shows produced since October of 2009. The German, Scottish, and Greek heritage shows were produced before that time. We need support for archiving all of our 300-plus show enewsletters and audio archives. We are operating on a very limited budget.)
Learn more:
6th-anniversary party
Another rousing success!
The sixth anniversary party for Hoosier History Live! on Feb. 27 was yet another rousing success.
About 200 guests hailing from all corners of the state, from Fort Wayne to Jeffersonville, attended our gala, which was hosted by Indiana Landmarks at their state headquarters, the beautifully renovated Central Avenue United Methodist Church.
The party was attended by dozens of the distinguished Hoosiers who have been studio guests on the radio show during the last six years, including notables such as novelist James Alexander Thom and his wife, Dark Rain Thom; Jane "Janie" Hodge, the pioneer of children's TV programming, and Jesse Kharbanda, president of the Hoosier Environmental Council.
Former Indianapolis Mayor William Hudnut spoke with great enthusiasm to our guests ("History matters!" - he proclaimed), as did Jeff Smulyan, CEO of Emmis Communications.
Hoosier History Live! wishes to thank the following performers, costumed re-enactors and others who contributed to the evening's success: Hank Fincken as Johnny Appleseed, Danny Russel as Abe Lincoln, kilted members of the Scottish Society of Indianapolis as a nod to our many programs about ethnic groups in Indiana, Shirley Judkins on the grand piano performing Indiana's Songwriter Legends, and Janet Gilray as "Ms. Melody" of Legacy Keepers and Dan Wethington of bluegrass band Cornfields & Crossroads. Photos by Frank Espich of the Indianapolis Star.
Birthday cake and mini cupcakes by Chef Maureen Dunlap, and photography by Bill Holmes.
Acknowledgments also to Garry Chilluffo, Mark Szobody, Marsh Davis, Sharon Gamble, Doris Bond, Laura Yeo, Leah Cody, Carol Simmons, Gary BraVard, Clayton Ryan, Jed Duvall, Lockerbie Pub, Richard Sullivan, Pam Fraizer, Tom Rea, Lorraine Vavul and Jeanne Blake.
Thanks!
Underwriting the project
Hoosier History Live welcomes new or renewal contributors Sue and Craig Thomson, Teresa Baer, Jane Hodge, Paul and Billie Fouts, Steve Barnett, Joe Young, Howard Creveling, Eunice Trotter, Dana Waddell and Clay Collins, Lorraine and Richard Vavul, Linda Gugin of Evansville, Marion Wolen, Jim and Marjorie Kienle, Tom Castaldi, Stacia Gorge, David Willkie, Kevin Murray, Jeff Swiatek, Dixie Richardson, Sharon Butsch Freeland and several anonymous contributors.
We are not staff members of any organization; rather, we are a small, independent production group trying to keep Hoosier History Live on the air, on the web, and in your inbox. Your gift goes primarily to support those individuals who are working so hard on the project, as well as to help defray the costs of maintaining our website, our email marketing software and our audio editing costs.
If you believe in supporting local artists, writers, historians and performers, look no further!
It takes only seconds to help us out. Just go to our website and click the yellow "Donate" button. Or, if you prefer the paper method, you may make out a check to "Hoosier History Live" and mail it to Hoosier History Live, P.O. Box 44393, Indianapolis, IN 46244-0393. We will list you on our website, unless you wish to remain anonymous. You also may memorialize a loved one if you wish; just make a note with either your online contribution or on your paper check. Thanks!

We also try to maintain some of those old-fashioned journalism principles about trying to keep editorial content separate from financial contributions.
For questions about becoming an underwriting sponsor (the underwriter level includes logos on our website and newsletter and spoken credits in the live show), contact our producer, Molly Head, at molly@hoosierhistorylive.org, or (317) 927-9101. If you have any questions at all about how we are organized, please feel free to talk to our producer.
Also, the Irvington Library Listening Group continues to meet on a regular basis from noon to 1 p.m. on Saturdays to listen to and discuss the live show. If you think you would enjoy listening with fellow history lovers, just stop by the library at 5626 E. Washington St. in Indianapolis and ask for the listening group.
By the way, it's easy to form your own listening group; all you need is a relatively quiet room with comfortable chairs and either a radio or an online listening device to pick up the show from the live Web stream on Saturdays. We do have listeners all over the country. A weekly listening group is an easy way to get "regulars" into your organization or place of business.
A nice note of support
'We hope to see it broadcast far and wide'
A particularly nice letter of support came in some time ago from authors James Alexander Thom and Dark Rain Thom. We like to re-read it from time to time!
To Whom it May Concern:

Last Spring, my wife and I were interviewed by Nelson Price on his Hoosier History radio program, as authors of frontier and Native American history books. Mr. Price's program was so well prepared and conducted that we feel it should be made available to students and general audiences as widely as possible. His program is well-researched, all questions pertinent to the chosen theme, and moves along briskly. Listeners called in with questions and comments that were intelligent and relevant, a sign of an avid audience.

As historical writers, we try to overcome the public's indifference to history, to bring alive in any way we can the important lessons of the past, and are enthusiastic about programs and writings that make those lessons interesting. The Hoosier History Live program does that so well that we hope to see it broadcast far and wide over this historically significant State of Indiana. It is an excellent program, worthy of extensive distribution and strong support.

James Alexander Thom & Dark Rain Thom, authors
Bloomington, Indiana
July 14, 2011
Shows, we got shows
We have more than 200 Hoosier History Live! radio shows completed, as a matter of fact. And we need to get show audio onto the website, which we are doing by and by, but we sure could use some sponsorship assistance as we edit and publish audio for each archived show. Take a look at the list below and check out all the opportunities for sponsoring a slice of original Hoosier History Live! content on the Web.
No one else is doing anything quite like what we're doing. We are the nation's only live call-in radio program about history. We offer a permanent and growing archive of quality content, available for sponsorship opportunities.
If you are interested in becoming a sponsor of Hoosier History Live!, click here or call Molly Head at (317) 927-9101 for more info.
What people are saying about Hoosier History Live!
"The folks at Hoosier History Live! are able to find great stories and the people to tell them - people and stories that you seldom hear on the national air."
Dr. James H. Madison, author and IU history professor
"As museums and educational institutions scramble to make their offerings more interactive, more entertaining and more 'relevant' to today's digitally obsessed consumers, Hoosier History Live! seems to have mastered that formula."
Glynis Worley, rural Bartholomew County listener
"Hoosier History Live! is a perfect place to consider and reconsider history ... not just what happened in the past, but what it may mean in the present. Nelson Price is the perfect host: enthusiastic, curious and knowledgeable. Tune in to Hoosier History Live! and be prepared to be surprised."
James Still, playwright in residence, Indiana Repertory Theatre
"Hoosier History Live! is a fantastic opportunity for people to not only learn about history, but also become a part of the conversation. Much like our mission, the telling of Indiana's stories, Nelson and his guests wonderfully connect people to the past!"
John Herbst
President and CEO, Indiana Historical Society
"The links on the Friday Hoosier History Live! enewsletter are a great way to learn more about history, and from a variety of sources."
Jill Ditmire
Omni Media Specialist
"Distilling life experience into stories is an art. Telling stories of life experience for Hoosiers past and present will shape the lives of young people and enrich the lives of all in our state. Mr. Nelson Price brings alive the life experience of notable Hoosiers in Hoosier History Live!"
David T. Wong, Ph.D., President
DT Wong Consulting, LLC
Former Lilly research scientist who developed Prozac
"Nelson Price, more than anyone I know, infuses joy into the pursuit of history. And that joy rings out loud and clear on the radio show, Hoosier History Live!"
Marsh Davis
President, Indiana Landmarks
"No, I haven't heard of another call-in talk radio show about history. Our airwaves are now full of the worst vitriol! Give me the phone number for the show. I want to call in!"
Ken Burns, speaking at a preview of his film "The War" at Indianapolis Hebrew Congregation, April 18, 2007