Aug. 1 show
History of women's voting rights
With the 95th anniversary of women's voting rights, Hoosier History Live will explore how the suffrage movement unfolded, both in Indiana and across the country.
The 19th Amendment to the U.S. Constitution - extending voting rights to women - was ratified in August 1920. Alas, some of the early suffrage leaders did not live long enough to cast a ballot in the November 1920 election, the first presidential race in which women could vote.
Nelson will be joined in studio by two guests:
With Jill and Laura, we will explore the formation of the Woman's Rights Association of Indiana and the lives of pioneers such as Amanda Way (1828-1914), a native of Randolph County who became known as the "mother of women's suffrage" in Indiana.
A historic marker for Amanda Way was dedicated a few years ago in her hometown of Winchester. A teacher, minister and a battlefield nurse during the Civil War, she organized a pivotal convention in 1851 in Dublin, Ind.; it is considered a milestone in women's rights movement.
The upcoming SheVotes event will be at the Propylaeum, 1410 N. Delaware St. in Indianapolis, which was founded by May Wright Sewall, an Indianapolis-based suffragist who died in 1920, just before the 19th Amendment was ratified. (We explored her life during a radio show in March 2012.)
Much of the SheVotes event is free and open to the public, but reservations are required. For questions, e-mail SheVotescommittee@gmail.com; event details are at www.propindy.org.
The ratification of the 19th Amendment occurred after decades-long crusades, both in Indiana and nationally. To plan strategies, women often met secretly or under the guise of "playing cards" and other social activities.
The National Women's Party was formed in 1916 and was led by Alice Paul (1885-1977), an activist whose life we also will explore. She helped draft an early version of the Equal Rights Amendment, which was first introduced in Congress in the 1920s.
In 1977, Indiana became the 35th - and last - state to ratify the ERA. (To make the ERA a constitutional amendment, 38 states needed to ratify it.)
Our guest Laura Albright notes that women continue to be "underrepresented" in state legislatures and in the U.S. Congress.
Women account for under 30 percent of state legislators across the country.
According to statistics Laura has shared, Indiana ranks 34th among the 50 states, with women constituting 20.7 percent of the Indiana General Assembly.
About 22 percent of the U.S. Congress is female. Currently, two of Indiana's nine members of Congress are women.
Even before women achieved success nationally by winning the right to vote in 1920, some states opened up voting in statewide races. Laura says this "limited form of suffrage" primarily prevailed in Western states, including Wyoming. Those who objected to suffrage expressed several concerns, including predictions that women would be "monolithic," voting as a massive bloc, Laura says.
To celebrate the victory in 1920 over that kind of opposition, organizations involved in the upcoming SheVotes event include the Indiana and Indianapolis chapters of the League of Women Voters, the National Organization for Women and the American Association of University Women along with the IU School of Law-Indianapolis.
Suffragist re-enactors and a brass band playing music of the era also will be featured during the Aug. 26 event.
Learn more:
Thanks!
Underwriting the project
We are not staff members of any organization; rather, we are a small, independent production group trying to keep Hoosier History Live on the air, on the web and in your inbox. Your gift goes primarily to support those individuals who are working so hard on the project, as well as to help defray the costs of maintaining our website, our email marketing software and our audio editing costs.
If you believe in supporting local artists, writers, historians and performers, look no further!
It takes only seconds to help us out. Just click the yellow "Donate" button, above. Or, if you prefer the paper method, you may make out a check to "Hoosier History Live" and mail it to Hoosier History Live, P.O. Box 44393, Indianapolis, IN 46244-0393.
We also try to maintain some of those old-fashioned journalism principles about trying to keep editorial content separate from financial contributions.
For questions about becoming an underwriting sponsor (the underwriter level includes logos on our website and newsletter and spoken credits in the live show), contact our producer, Molly Head, at molly@hoosierhistorylive.org, or (317) 927-9101, or Garry Chilluffo, our media+development director, at gchill@hoosierhistorylive.org.
Also, the Irvington Library Listening Group continues to meet on a regular basis from noon to 1 p.m. on Saturdays to listen to and discuss the live show. If you think you would enjoy listening with fellow history lovers, just stop by the library at 5626 E. Washington St. in Indianapolis and ask for the listening group.
If you are interested in forming your own listening group, all you need is a relatively quiet room with comfortable chairs and either a radio or an online listening device. A weekly listening group is an easy way to get "regulars" into your organization or place of business.
The Central Library in Indianapolis is willing to provide a space for a listening group if someone would volunteer to host the group. For more info, contact producer Molly Head.
Appearances
Want to meet Nelson in person?
Our intrepid host Nelson Price will be doing a couple of upcoming appearances that are free and open to the public. He'll be doing his presentation about famous people from Indiana, both historic Hoosiers and contemporary notables whom he has interviewed, at two public libraries in Columbus and Greenfield.
His presentation is accompanied by an extensive display of photos and illustrations featured in Nelson's books, including Indiana Legends: Famous Hoosiers from Johnny Appleseed to David Letterman.
Nelson will be at the Bartholomew County Public Library in Columbus at 6:30 p.m. on Monday, July 27, and at the Greenfield Public Library at 7 p.m. on Wednesday, July 29.
In addition to hosting Hoosier History Live, Nelson does give professional presentations and tours. For booking information, costs and availability, he may be contacted directly.
Aug. 8 show
Natural gas boom of 1880s and '90s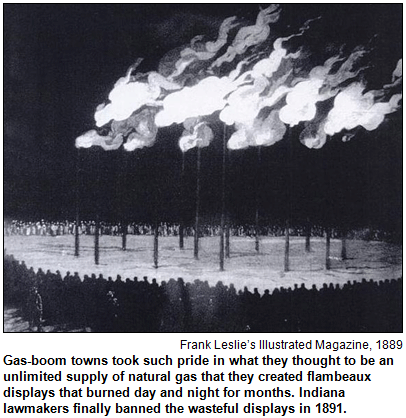 An entire region in east central Indiana became the setting in the 1880s and '90s for, as one of our guests puts it, "one of the great natural resource discoveries of American history." The natural gas boom in Indiana also is regarded as one of the most dramatic eras in the state's history.
Alas, the boom - which significantly affected cities such as Muncie, Kokomo, Anderson, Marion, Elwood, Gas City and Fairmont - did not last, even though many civic leaders, businesses and residents assumed the plentiful natural gas would never run out. For most industries, businesses and homeowners, the era was over by 1910 or much earlier.
In this encore broadcast of one of the most popular shows in our Hoosier History Live archives (its original air date was June 7, 1014), we explore what unfolded with the natural gas boom and bust. Indiana became one of the country's top glass-producing states during the natural gas boom. Nelson is joined in studio by two guests:
James Glass, a well-known historic preservationist and the co-author of The Gas Boom of East Central Indiana (Arcadia, 2005). Jim, who writes the "Culture Watch" column for The Indianapolis Star, is principal of Historic Preservation and Heritage Consulting.
And Dave Broman of Kokomo, executive director of the Howard County Historical Society. The society is located in the Sieberling Mansion, a historic residence built by a prominent figure in the gas boom.
According to our guest Jim Glass, Indiana's "gas belt" covered 2,500 square miles, making it the largest gas field in the country in the 1890s.
A range of industries requiring large quantities of fuel were attracted to east central Indiana as a result. They included glass (Muncie became the country's No. 2 glass-producing city after Pittsburgh, Jim writes), brick, wire and nail, iron and strawboard, an early type of cardboard.
So why did the natural gas boom end so quickly?
"No effort to conserve," Jim writes. "No one wanted to believe the gas would run out, despite plenty of scientific evidence."
A note of support
'We hope to see it broadcast far and wide'
A particularly nice letter of support came in some time ago from authors James Alexander Thom and Dark Rain Thom. We like to re-read it from time to time!
To Whom it May Concern:

Last Spring, my wife and I were interviewed by Nelson Price on his Hoosier History radio program, as authors of frontier and Native American history books. Mr. Price's program was so well prepared and conducted that we feel it should be made available to students and general audiences as widely as possible. His program is well-researched, all questions pertinent to the chosen theme, and moves along briskly. Listeners called in with questions and comments that were intelligent and relevant, a sign of an avid audience.

As historical writers, we try to overcome the public's indifference to history, to bring alive in any way we can the important lessons of the past, and are enthusiastic about programs and writings that make those lessons interesting. The Hoosier History Live program does that so well that we hope to see it broadcast far and wide over this historically significant State of Indiana. It is an excellent program, worthy of extensive distribution and strong support.

James Alexander Thom & Dark Rain Thom, authors
Bloomington, Indiana
July 14, 2011
Shows, we got shows
We have more than 200 Hoosier History Live! radio shows completed, as a matter of fact. And we need to get show audio onto the website, which we are doing by and by, but we sure could use some sponsorship assistance as we edit and publish audio for each archived show. Take a look at the list below and check out all the opportunities for sponsoring a slice of original Hoosier History Live! content on the Web.
No one else is doing anything quite like what we're doing. We are the nation's only live call-in radio program about history. We offer a permanent and growing archive of quality content, available for sponsorship opportunities.
If you are interested in becoming a sponsor of Hoosier History Live!, click here or call Molly Head at (317) 927-9101 for more info.
What people are saying about Hoosier History Live!
"Hoosier History Live is a fun and interesting way to learn about the heart and soul of Indiana. No boring classes or books here! The production team does an outstanding job."
Judy O'Bannon, civic leader and public broadcasting producer
"The folks at Hoosier History Live! are able to find great stories and the people to tell them - people and stories that you seldom hear on the national air."
Dr. James H. Madison, author and IU history professor
"As museums and educational institutions scramble to make their offerings more interactive, more entertaining and more 'relevant' to today's digitally obsessed consumers, Hoosier History Live! seems to have mastered that formula."
Glynis Worley, rural Bartholomew County listener
"Hoosier History Live! is a perfect place to consider and reconsider history ... not just what happened in the past, but what it may mean in the present. Nelson Price is the perfect host: enthusiastic, curious and knowledgeable. Tune in to Hoosier History Live! and be prepared to be surprised."
James Still, playwright in residence, Indiana Repertory Theatre
"Hoosier History Live! is a fantastic opportunity for people to not only learn about history, but also become a part of the conversation. Much like our mission, the telling of Indiana's stories, Nelson and his guests wonderfully connect people to the past!"
John Herbst
President and CEO, Indiana Historical Society
"The links on the Friday Hoosier History Live! enewsletter are a great way to learn more about history, and from a variety of sources."
Jill Ditmire
Omni Media Specialist
"Distilling life experience into stories is an art. Telling stories of life experience for Hoosiers past and present will shape the lives of young people and enrich the lives of all in our state. Mr. Nelson Price brings alive the life experience of notable Hoosiers in Hoosier History Live!"
David T. Wong, Ph.D., President
DT Wong Consulting, LLC
Former Lilly research scientist who developed Prozac
"Nelson Price, more than anyone I know, infuses joy into the pursuit of history. And that joy rings out loud and clear on the radio show, Hoosier History Live!"
Marsh Davis
President, Indiana Landmarks
"No, I haven't heard of another call-in talk radio show about history. Our airwaves are now full of the worst vitriol! Give me the phone number for the show. I want to call in!"
Ken Burns, speaking at a preview of his film "The War" at Indianapolis Hebrew Congregation, April 18, 2007